The Rudolf Rocker Chess Club will be presenting our first invitational tournament in September or October 2022.
This will be a 5 round, CFC rated swiss with 10 players, a long time control, an entry fee, cash prizes, and over the board play.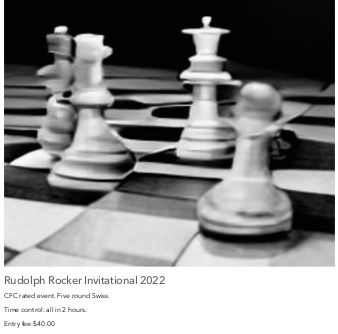 The event will be held at a private location in downtown Winnipeg in September or October. It will be held on three consecutive days consisting of two games played on a Saturday, two on a Sunday and one on a Monday evening.
Though this is a by invitation event, we are also welcoming the application of players for our consideration. We are primarily looking to invite players at the expert level and above, but strong class players are welcome to put their names forward to help us ensure we have the necessary 10 players.
Please apply by email to Chief Organizer and Arbiter Cory Letain <cletain@yahoo.ca> . Mark Jenkins will be acting as an assistant arbiter.
We will be finalizing our invitation list around Tuesday August 23rd.
We also encourage Manitoba players to have private matches. Once our event roster is finalized, you can let us know if there are specific players you would like to share your contact information with. In this way, you may still be able to arrange an alternative opportunity to play with some of our invited players.
In addition to this over the board invitational tournament, we will also hold an online swiss on lichess with the same long time controls. For access, join our lichess group. When applying for lichess group access, indicate your connection to Manitoba or prior connection to chess in Manitoba.