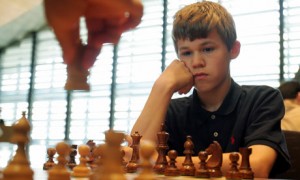 Come out to the 3rd floor, 91 Albert St. on Nov 15 noon-4pm and celebrate the in-progress world championship.
We're going to bring our tablets and smartphones so you try out the "Play Magnus" app (now available on Android) and take on a simulation of world champion Magnus Carlsen from age 5 on up. Don't worry, he doesn't start to take chess seriously until he's 8, his younger levels are beatable by fairly new beginners — you stronger players might also be glad to know that his 11-15 progression was made a bit less steep than the reality. Club members will be available to review your games with young "Magnus" after to notice tactical mistakes by either side.
We'll also challenge you to convert winning positions held by either Magnus or Anand in the last six rounds against strong defenders.
And come on out as usual for casual face to face chess.